Sunday, May 2, 2010
Labels: Fun Factory, Reviews, Scorpio
3 comments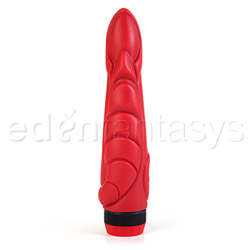 I bought my Scorpio quite a while ago, an impulse buy brought on by my first sex toy shopping spree. Yes, I'm a Scorpio and proud of it. The common astrological descriptions of those born under the Scorpio sign seem to fit me perfectly and whenever I am a little too demanding or flirtatious it is nice to fall back on the fact that I can't help it - since I'm a Scorpio!
Scorpio
is part of Fun Factory's Astrovibes collection, there is of course one for each sign. It is a straight vibrator with a 100% medical grade silicone sleeve. The silicone is very smooth, and there are no seams. I wouldn't call it flexible, but it does have a little give. It is 8" Long from top to bottom, with about a 6" insertable length (could be more but you wouldn't have much left to hold on to). The tapering diameter is just under 1.5" at the tip and approx 2" at the widest point near the base. I wouldn't suggest using this vibe for anal insertion since it does not have a flared base, but it does work nicely for teasing the anal opening with it's pointed tip and vibrations.
It requires 2 double A batteries that you put into the bottom of the vibe, and the vibration strength is controlled by twisting the dial at the bottom of the battery cap. The dial doesn't twist so easily that you would turn it by accident, but it is easy enough that you can turn it with your fingers lubed up. The vibrations aren't too loud and travel through the entire vibe pretty evenly. I would probably rate the noise level a 3/5 , but they honestly aren't very strong either. I'd also give the intensity a 3/5.
He can only be used with a water based lube, since a silicone based lube can damage silicone toys and cleaned with soap and water or your favorite
sex toy cleaner
. But my experience was that it is not very easy to clean. It is not water resistant so while cleaning you have to be careful not to get water near the battery compartment. Now, I did accidentally get water in there, and it corroded but luckily I was able to clean it off and it still works good as new. Every time I have used this vibe, and thought I had cleaned it...I always end up having to clean it again after it dries because there will be left over lube in the grooves. If you need to sterilize, you can do so by wiping it down with a 10% bleach solution. Like all silicone, it grabs onto lint and hair so don't be surprised if you need to rinse it off before use as well.
This was one of the first
sex toys
I bought and probably based my choice more on the appearance than the function. Scorpio is a very cool looking toy, with bumps and grooves that resemble a scorpions tail.Unfortunately, the designs on the Scorpio, mainly the one bump near the head made it uncomfortable for me to insert and use vaginally. So sadly this beauty has mainly been a decoration, and the occasional clit stimulator or neck massager.
That said, it works ok as a clit stimulator.. but there are other toys that work better due to the shape so this poor guy doesn't get reached for very often. I am a bit sad to say that this one was not worth the price I paid, and I wouldn't recommend it unless you were specifically looking for something to fit in with your astrological collection. If you are not a scorpio, there may still be hope for the other signs! If you can get past the bump (which I think is bigger than it appears in the factory photos), and the cleaning issues...This can be a nice filling toy with good vibrations. Of course everyone has different opinions and experiences, and these are mine.
This a toy I purchased, and I was not compensated for this review.
Links to this post