Sunday, June 27, 2010
Labels: Croupier, Eden Fantasy's, Evolved, Reviews
1 comments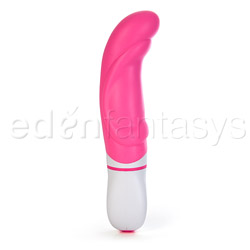 When I saw Croupier, I knew I had to try it! I still love my first G-Spot vibe but what girl doesn't like to have a variety? When I requested it for review, I wasn't sure if I would get it. It took a few days before I got a reply, so I was pretty excited to find out that I could! I went through the checkout and ordered a few other goodies and then tried to contain my excitement while I waited for the mail. It arrived quickly and very discreetly as usual.
Evolved Novelties toys come packaged in a beautiful airtight storage/display case that closes with a clasp on each end. The cases for the Roulette line are made of a clear hard and decorated plastic. When I opened the case, it seemed to have a strong plastic smell. I was a bit taken aback since silicone is usually odorless, but after leaving the vibe in my drawer for a few days (and not in it's plastic box) the smell was completely gone. I'm pretty sure that the smell was the box itself and not the vibrator.
Croupier
is 8" long with about 5 inches of that being insertable and a diameter of 1 3/4". It takes two AA batteries (not included). Unlike some other vibes I have tried, the battery compartment is very easy to open by giving it a little twist. They were even considerate enough to label the inside as to which direction to put each battery so there was no trial and error needed! The control dial is very easy to use and resembles a roulette wheel, to go with the casino theme of the roulette line of toys.
The deep vibrations this toy makes somehow feel very different than any other toy I have played with so far. I tried to think of a way to describe it, but I'm at a loss for words. To sum it up - perfect. The motor is located in the tip, and the vibrations travel throughout the entire shaft. The shaft itself is basically hollow and very flexible with a nice curve at the end and for me this toy was wonderful for both G-Spotting or using on my clitoris along with a second toy. One more thing - it's quiet! On the highest speed it does make a bit of a buzz but during use it barely makes any noise at all. I didn't try it anally, and wouldn't recommend it to be used that way either since it does not have a flared base.
Evolved made their Roulette vibes with a specially formulated silicone. Like other silicone
sex toys
, it is hypo-allergenic, non-porous, phthalate and latex free so it is completely body safe but that's not all.
Roulette vibes are safe to use with silicone or oil based lubricant.
Yes! It's true! Croupier is also completely waterproof and is a dream to use in the shower with your favorite lube, since most water based will rinse off when used in the shower. Cleaning is easily done under warm water with a mild soap or sex toy cleaner and you can wipe it down with a 10% bleach solution to sanitize if you wanted to share.
Croupier is currently my favorite toy. I was truly impressed and couldn't think of a single negative thing to say about it, other than its name... because I can't figure out how to say Croupier out loud! Any suggestions for a new name ? Sublime, perhaps? I can hardly wait to try out another toy from Evolved!
If you want your own Croupier,
Eden Fantasy's
has them on sale along with other
premium silicone vibrators
for 20% off! The sale ends on July 2nd, if you miss out on the sale or if you want to buy any of the other great products you can always use the code FES for 15% off your entire purchase!
G-spot vibrator by Evolved

Material: Silicone

Safety:

This product was provided free of charge to the reviewer.
Links to this post