Sunday, April 25, 2010
Labels: Dildos, Eden Fantasy's, Jelly, Reviews, Xtra Sweet Double
1 comments

Allow me to introduce...The Monster. That's my name for him at least ! I know that many others refer to their toys as a "she" but I can't imagine calling a penis "she"
This is the
Xtra Sweet Double Dong
by Topco sales. I don't know what I was thinking when I bought this... Ok , I know what I was thinking , but I may not have been thinking clearly. I once saw a porn that had a woman using a jelly dildo for dual penetration. I'm pretty sure the same woman used her toy with another woman , ass to ass, with the wonderful dong in between. Can you picture it ? After seeing that I NEEDED to get myself a
double dildo
.
When I went to the store and looked at my options , the first one I picked up was fairly small. Then I saw I could get one a few inches bigger for only a few dollars more. Then I saw this one...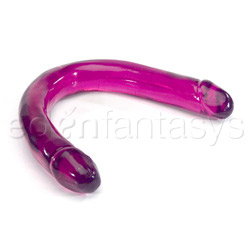 It drew me in. It was in a hard plastic packaging , but had a hole so you could feel the material. It felt wonderful and squishy..yet firm. This was the one. If I was going to buy a double, it may as well be the biggest one right ? Ok , I'll admit it might not have been the BIGGEST. They might have had toys the width of my arm but I was trying to at least be somewhat realistic in my purchase. Plus, this one is purple. I love purple.
This toy looks, and can feel great. It is pliable enough to not be uncomfortable, but not so soft that you can't do anything with it. This is the biggest of my toys so far, but it still isn't unrealistically large - unless you want to use it for first time dual penetration like I did. It is 1 3/4" around and 18" long and weighs in at 1.5 lbs !
Eden Fantasy's
has an awesome actual size generator to help you figure out if any toy is the right size for you.
Sadly, the good news stops here. I have found that I cannot use this toy without a condom on it. I don't know if it is all
Jel-lee
or just this toy but it
burns
when I try to use it uncovered. With a condom, it is fantastic due to the size - but I more often reach for my other toys because I am too afraid to try it again, and this poor thing sits collecting dust ... and cat hair. It
LOVES
cat hair.
Mine also has some black staining on it. Not quite sure from what, but I had it in a black duffle bag along with other various black things so it could have come from any of them. So if storing this toy, make sure it isn't resting on something that may not be colorfast or on any other adult toys.
You can use water or silicone based lubes with Jelly toys, and clean them with warm water and sex toy cleaner, or a mild soap. They cannot be boiled or sterilized so should not be shared or used anally without a condom. It is very porous, so I don't think it should be used with out a condom anyway. When I bought this I had NO CLUE about the different materials or what was safe. I went to the store, saw one that looked nice and bought it. I wish I had known about Eden Fantasys then !
If you still think you'd like to give it a chance, you can buy it at Eden Fantasy's for only $25.99, but there are better; and safer options if you are willing to spend a little more on your new double. Personally, I'd love to get myself a strap on or a Feeldoe.
Use the code FES at the checkout to save 15% on any purchase!
This a toy I purchased , and I was not compensated for this review.The opinions within this post are of my own and I was not influenced in any way. Please do your own research before purchasing products. Your opinions and results may differ.
Links to this post