Monday, May 31, 2010
Labels: Eden Fantasy's, Naughty Gnome, O'My, Reviews
1 comments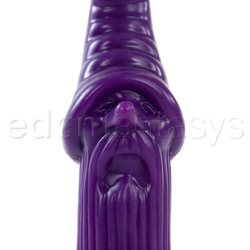 Being an adult who collects dolls, the Naughty Gnome was one sex toy I kept going back to take a peek at. When I was given a chance to choose a toy for review from Eden Fantasy's I took a look through my wish list and decided on the gnome. I love how I can have him displayed on my shelf without anyone knowing that the face staring back at them is a
sex toy
.
He sits there, looking so innocent.
The Naughty Gnome is an 8.5" long silicone vibrator by O'My Products. It is non-porous, hypo-allergenic, phthalate and latex free. Only his hat is intended for insertion, and it is around 4" long. It has a girth starting around the size of a fingertip that tapers to about 1 3/4" at the thickest point. His "beard" is ribbed, and gives you lots of space and some grip to hold onto. You can use a water based lubricant with this vibe, if needed.
It takes two AA batteries, which are not included. You put them in at the bottom, and it locks so that it doesn't come loose while adjusting the speed of the vibrations. At the top speed, it is only a little louder than a toothbrush IF you are holding onto the cap. When I was not holding the cap it would start rattling once I got to the higher speeds, and makes it rather noisy. The vibrations are strong and seem to travel through the silicone quite nicely.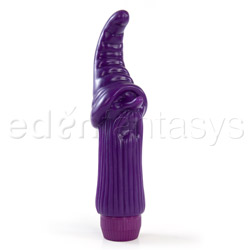 I am sorry to say that as cute as he is, this gnome ain't so naughty. The curved hat which is intended to go straight for your
G-Spot
, falls short. His nose, which doesn't really flicker at all....is way too small to even come close to my clitoris with the vibe inserted. The vibrations DO travel to the nose, just saying don't expect it to flicker like rabbit ears do.
While inserted I could barely feel the vibrations, possibly due to the smaller girth. I did find that the tip of the curved hat was nice to use on my clit and to tease my ass so it isn't a total loss. I was hoping to try it out with my husband and see if it had any P-Spot potential but unfortunately didn't get a chance to. I did not insert it anally on myself either, only used it to tease.
There are mixed reviews, and I was unable to find any definite answer so I am not sure if it is waterproof or not. It does not have a rubber gasket or anything like that in the battery compartment so my guess was that it is not waterproof. It can be cleaned with soap and water or sex toy cleaner, and sterilized with a 10% bleach solution if you are careful not to get water inside. It has a seam that runs up both sides and the design has a lot of grooves so make sure to clean it well so that there is nothing left behind.
I was really hoping I could give him an awesome review because I love the way he looks, but as much as I tried I just couldn't find a way. If you would like to give a
Naughty Gnome
a chance, you can get one in Pink or Purple.
Use the code FES at the checkout to save 15% on any purchase!
G-spot vibrator by O'My Products

Material: Silicone

Safety:

This product was provided free of charge to the reviewer.
Links to this post